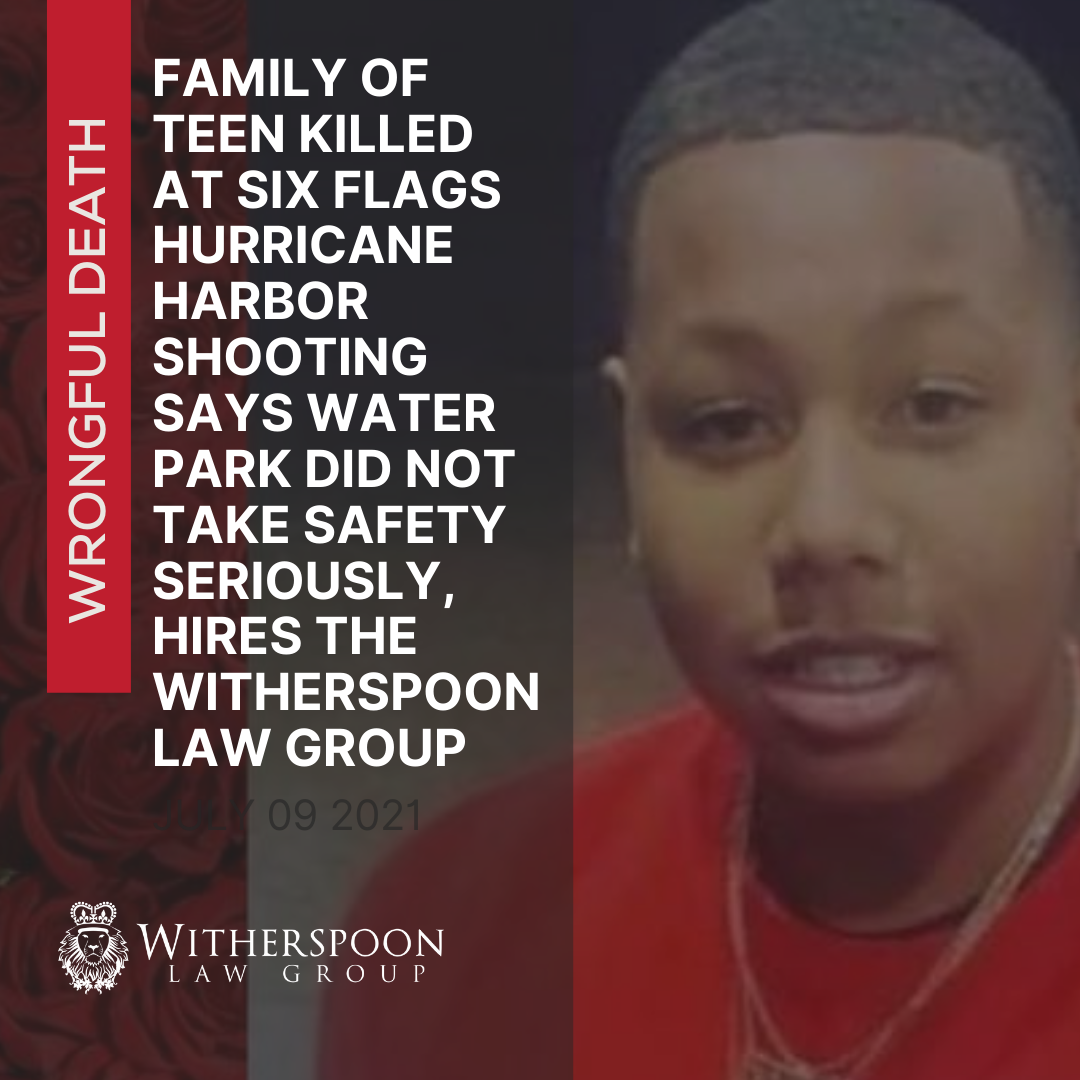 Arlington, Texas | Slain 16-year-old Dai'Trell Teal's family says that Six Flags Hurricane Harbor should have been investing in adequate safety and security measures all along, instead of waiting until their loved one was killed at the popular water park. Teal would have been entering his junior year at James Martin High School next month, but his life was taken prematurely on June 23, 2021, after being shot in the back at Six Flags Hurricane Harbor.

"Since the incident, we understand that Hurricane Harbor has finally decided to take safety and security more seriously by implementing some measures to ensure the reasonable safety of its guests," said Nuru Witherspoon, of The Witherspoon Law Group, who serves as attorney for the family of the murdered teenager.

Teal's family says that if Six Flags Hurricane Harbor had implemented appropriate safety and security prior to the shooting, then their loved one would still be alive today
"This is a case of too little, too late when it comes to safety and security," said Nuru Witherspoon, attorney and spokesperson for the family of Dai'Trell Teal. "A water park is supposed to be a place for fun, but Dai'Trell Teal's family is experiencing a nightmare due to this company's negligence. How many lives have to be cut short before companies like Six Flags Hurricane Harbor take the safety of their patrons seriously?"

The Witherspoon Law Group's initial investigation reveals the following:
On June 23, 2021, unarmed 16-year-old Dai'Trell Teal was shot in the back and killed on the premises of Six Flags Hurricane Harbor, located at 1800 East Lamar Blvd. in Arlington, Texas.
Teal and his friends were verbally confronted by an unknown man as they were exiting the park after what they believed was another day of summer fun. Little did they know, at the time, their innocence would be stripped, and they and their families' lives permanently altered.
The perpetrator yelled to Teal and his friends from his car, inquiring whether they "had beef" with someone they were unfamiliar with. The perpetrator then had time to physically confront the group with continued aggressive behavior, followed by him going back to his car, wielding a gun, and firing multiple shots before leaving the area, striking 16-year-old Teal in the back.
The shooting would have been prevented had the water park implemented adequate security measures. Hurricane Harbor failed to ensure sufficient security personnel and patrols, as well as adequate access controls to prevent loitering in the parking lot, despite its location being in an area where crime is prevalent.
Since the shooting, investigation reveals that Hurricane Harbor has finally decided to tighten its safety and security measures, albeit, offering little comfort in the aftermath of such devastating loss that could have been prevented by a company profiting from the children it failed to protect.
The Witherspoon Law Group is filing a lawsuit, seeking $25 million in damages as a result of Dai'Trell Teal's untimely and preventable death.
The Witherspoon Law Group handles high profile serious injury and wrongful death cases. For more information, contact Attorneys Nuru Witherspoon or Kay Harper Williams at 1.866.491.2130, info@twlglawyers.com, or visit www.twlglawyers.com.
https://www.wfaa.com/embeds/video/287-b6c57ea5-2426-4189-a531-318b393f9fae/iframe